Bosnia & Herzegovina Expedition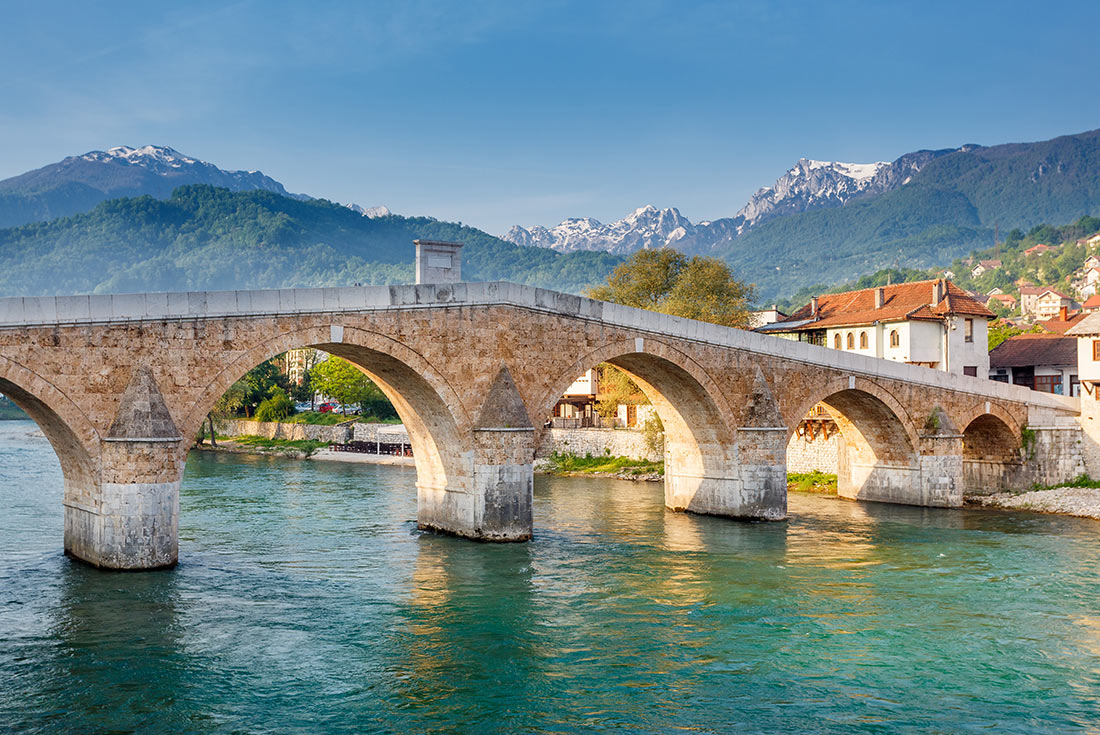 Bosnia & Herzegovina Expedition
Nature, history and culture collide across Bosnia and Herzegovina on this round-trip 8-day expedition from Sarajevo. Though so recently touched by upheaval, the people of Bosnia and Herzegovina are eager to share their history and customs with you – through good food, gripping stories and thrilling adventures. Spot wild horses in the mountains, step inside a preserved bunker that remained a national secret for decades, go white-water rafting down a turquoise river and get a taste of the Balkans' special brand of perseverance and hospitality.
Activities
Sarajevo - Bosnian Cooking Demonstration and Dinner
Jajce - Guided City Walk
Travnik - Town Visit
Livno – Wild Horse Safari
Herzegovina – Day Excursion
Blagaj Teke – Sufi Dervish monastery Visit
Stolac - Coffee and cake in a traditionally restored coffee house
Kravica Waterfalls
Konjic - Tito`s Bunker Tour
Konjic - Orientation Walk
Konjic - Herzogovian Home-cooked Meal
Neretva – River Rafting
Neretva - Picnic Lunch
Konjic – Mountain Photo Safari
Sarajevo – Guided City Tour
Sarajevo Artisan Copper shop visit
Highlights
Ease into your adventure with a meal hosted by locals Mustafa and Mersiha in their kitchen overlooking the city of Sarajevo.
Paddle hard on a white-water rafting trip down the Neretva River, through canyons and past waterfalls.
Go off-road in search of wild horses in the foothills of Mount Cincar – our expert local leaders and guides know all the best spots to look.
Explore the historic and off-the-beaten-path town of Jajce, the birthplace of Yugoslavia and home to centuries-old architecture and a fairytale waterfall.
Step inside Josip Tito's bunker – a massive and impeccably preserved underground nuclear shelter from the Yugoslav era that just recently opened to visitors.
Meet Sarajevo's only female coppersmith while wandering the cobblestone walkways of the city's historic cultural centre.

We get it – travel's a big decision. It's not every day you fly across the world to wander the souks of Marrakech or enjoy a dreamy Angkor sunrise. But for us, it's been our everyday for the past three decades (whew, we're old). Let's just say we know what travellers really want: a balance of inclusions and free time, a mix of classic highlights and local secrets you won't find on Google. And of course, an authentic real life experience.

Our leaders are born and raised in-country, and they know their destination better than anyone. So you'll do more than just see a place, you'll live it. Small groups, big adventures and responsible travel – that's our thing. With 1,000 trips in a variety of styles across 100 countries, we're sure you'll find something you like. So let's get started.

1. Real life experiences
What is travel but a search for something that can't be Googled? We love the highlights, but the real magic for us happens well away from a beaten path. It's the little noodle bars, hidden galleries and backstreet bodegas and real life experiences you won't find in a search engine.

2. Connected by travel
The beauty of small group travel isn't just new places, it's new perspectives. It's the stories you hear and the friendships you forge, the ones that stick around long after the tan has faded. Our travellers come from all walks of life; what unites them is where they're going.

3. Travel works best when it's balanced
Time is your most precious resource, especially on a holiday. That's why our trips are built with balance in mind. A little group time, a little you time – the way it should be. And because our tours have an average of just 10 people, there's more of the world to go round.

4. With great travel comes great responsibility
The world's a pretty amazing place, and we want to do our bit to keep it that way. And all it takes is a little dash of self-awareness, a slightly softer tread. Sustainable travel doesn't mean no fun. It means that fun can be used to benefit others. Respect.

5. Adventure should be for everyone
Age, pillow preference, budget, travelling solo or together – it doesn't matter where you're from, what matters is where you'd like to go. Our mission is to deliver the best travel experiences to anyone who's up for them. So no matter if you favour a soft landing or a wild take-off, Intrepid stands for you.

6. Our leaders are the greatest
We realised early on that the best folks to show you the heart of a destination are, funnily enough, the ones that live there. These are our leaders: travel experts and friendly locals who know their countries back to front, from every backstreet bar to every hidden gallery. They're the big, smiling face of Intrepid (and we couldn't be prouder).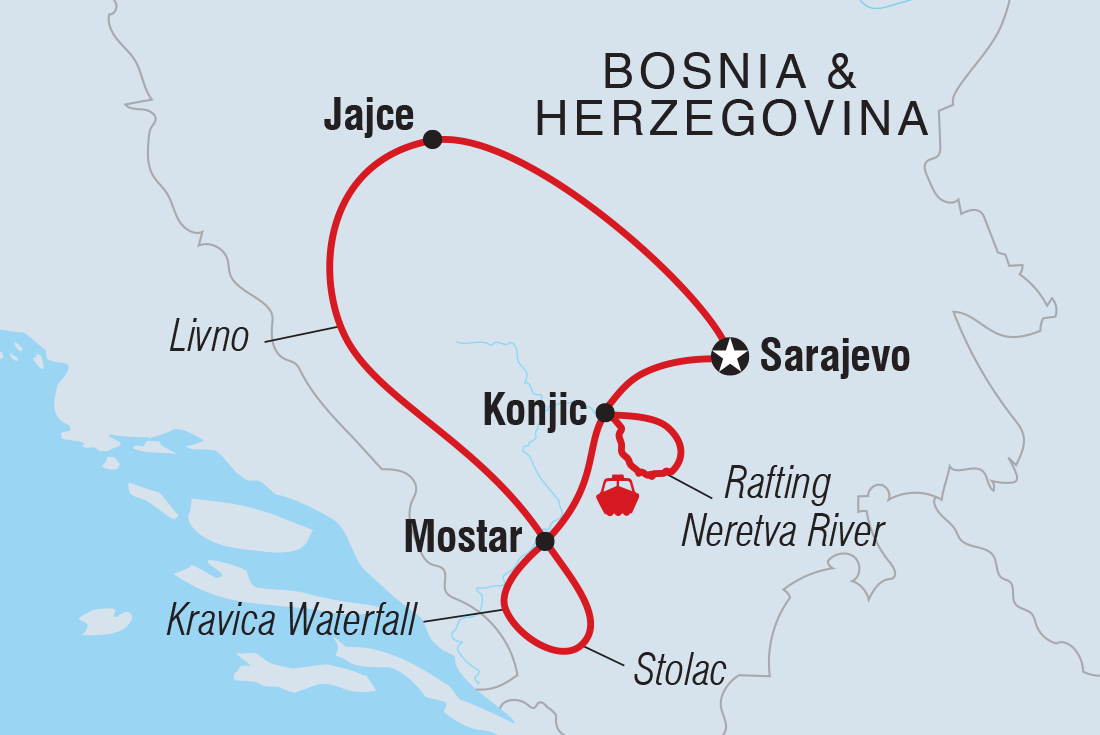 Day
Destination
1
Sarajevo
2
Jajce
3
Mostar
4
Mostar
5
Konjic
6
Konjic
7
Sarajevo
8
Sarajevo