Trek the Great Inca Road and Inca Trail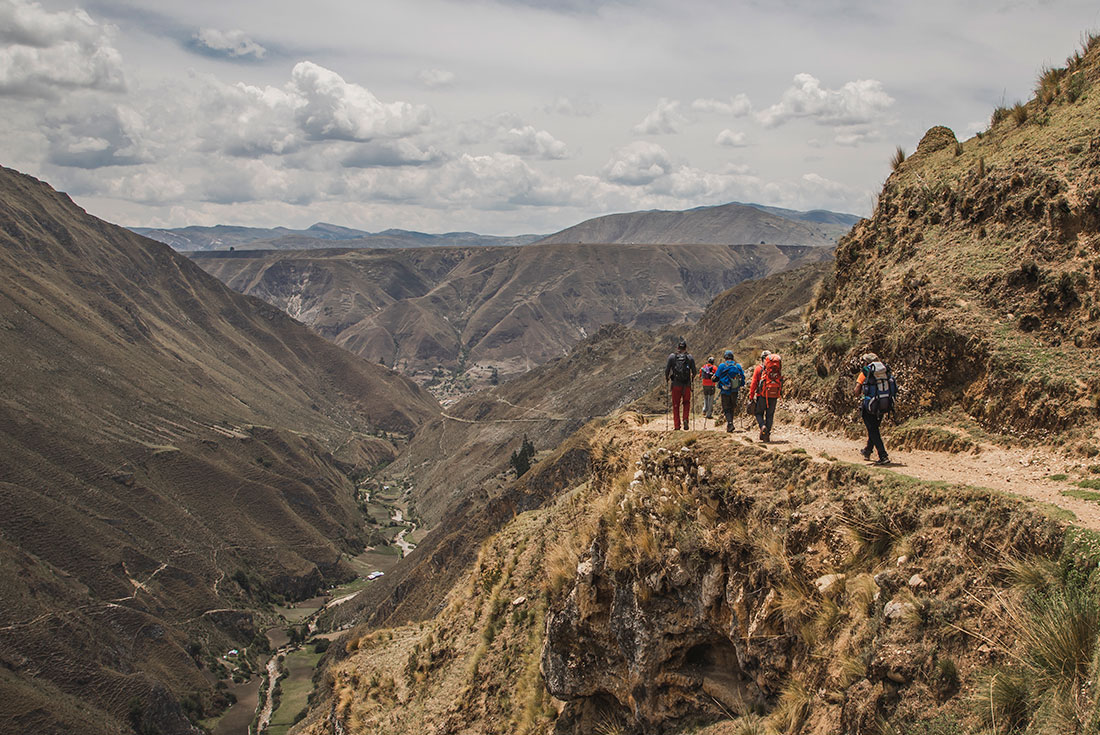 Trek the Great Inca Road and Inca Trail
On this epic 19-day trekking adventure, you'll join a local leader and a traditional llama caravan to hike storied paths that few travellers have seen, visiting archaeological sites along the way on the iconic Great Inca Road. Acclimatise to the altitude in the adventure hub of Huaraz, hike through the spectacular surrounding landscapes and then carry on to Lima to retrace the steps of the Incas. Recharge in the capital city before your journey through the fertile heartland of the Sacred Valley, seeing the Ollantaytambo ruins along the way. Choose your own adventure (on the Inca Trail, Quarry Trail or the scenic train route) to Machu Picchu – sitting high in the Andes, you'll be able to tick one of the Seven Wonders of the World off your bucket list! End it all in Cusco, a foodie's paradise and cultural hub, and get closer to the secrets of the elusive civilisation that once resided here.
Activities
Huaraz: LLanganuco lakes and Laguna 69 guided hike
Huaraz: Laguna Churup guided hike
Huaraz: Pastoruri glacier & Huascaran National Park guided hike
Great Inca Road: Castillo to Soledad de Tambo guided hike
Great Inca Road: Soledad de Tambo Archaeological guided site visit
Great Inca Road: 4 days fully supported (Porters, Llamas, all meals and equipment)
Chavín de Huántar archaeological site guided visit
Great Inca Road: Soledad de Tambo to Quenhuajirca guided hike
Great Inca Road: Meeting with traditional master weaver
Great Inca Road: Quenhuajirca to Tambo Grande guided hike
Great Inca Road: Tambo Grande to San Lorenzo de Isco guided hike
Great Inca Road: San Lorenzo de Isco to Huanuco Pampa guided hike
Great Inca Road: Huanuco Pampa Archaeological site visit
Sacred City of Caral-Supe guided visit
Cusco - Leader-led orientation walk
Sacred Valley - Community visit & lunch
Sacred Valley - Coffee & cake
3 Night/4 Day Inca Trail (or 2 Night/3 Day Inca Quarry Trail) guided hike(s) with porters' support. Or guided Cusco stay (Machu Picchu by train)
Machu Picchu - Guided tour
Highlights
Hike on the ancient and little-visited trade routes of the Great Inca Road, taking in seriously spectacular views of the Andes and visiting well-preserved yet remote Inca outposts.
Your hike along The Great Inca Road will culminate at the incredible Maya site of Huanuco Pampa – where you'll meet a local guide for a private tour of these significant ancient ruins.
Whether you trek the?Inca Trail, Inca Quarry Trail or take the scenic train route, you'll be travelling responsibly with a company that cares about balancing profit and purpose. Intrepid is the largest B Corp certified operator on the Inca Trail and we're committed to operating our treks for the benefit of all.???
Set your sites on the mysteries of Machu Picchu, nestled within an Andean rainforest high in the mountains. This trip gives both trekkers and non-trekkers the chance to visit one of the Seven Wonders of the World with the Inca Trail, Quarry Trail or train option.?
Travel through the Sacred Valley of the Incas, known for its steep and soaring scenery, mystical significance and Indigenous cultures that still reside here. Enjoy lunch at a local community and then visit an organic café providing support to local women.?
For over 30 years we've been taking travelers around the globe. That's over 30 years of adventures, of visiting new places and old friends, of countless unforgettable moments. More than 30 years of changing the way people see the world, on small group tours with like-minded Intrepid people.
As a responsible business, we've always been committed to being there for our travelers and the communities we visit. So, you can trust that when you travel with us, we won't just be there for you
...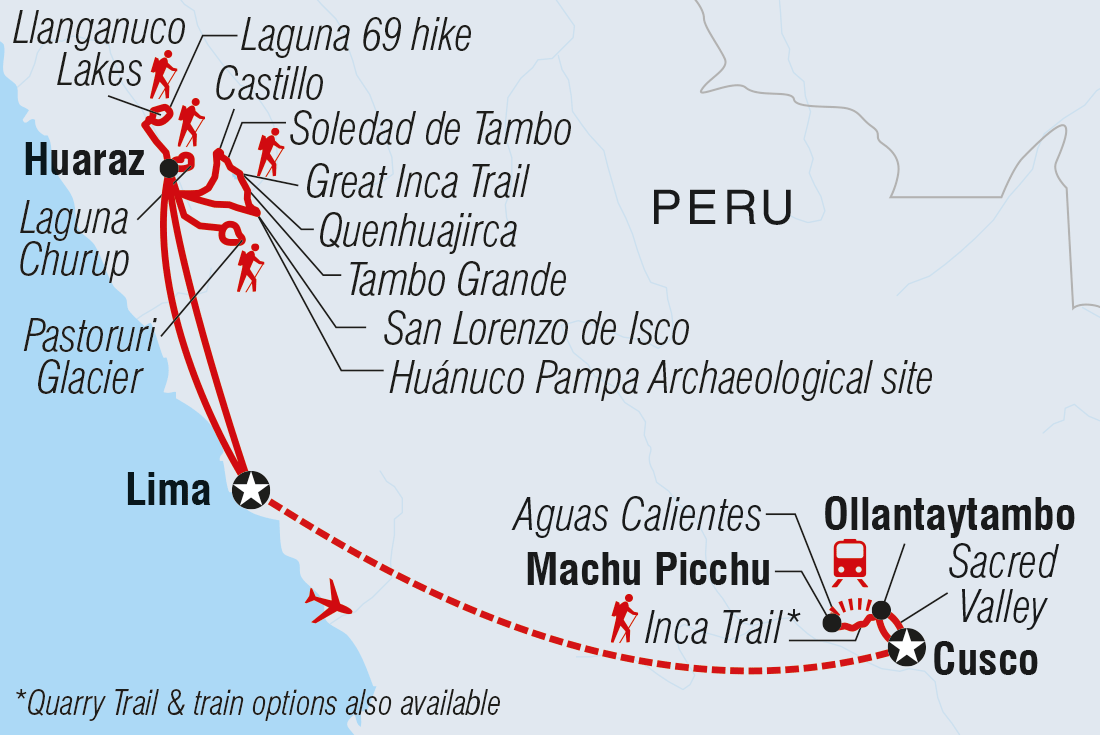 Day
Destination
1
Lima
2
Lima to Huaraz
3
LLanganuco lakes & Laguna 69 hike
4
Laguna Churup hike
5
Pastoruri glacier hike
6
Great Inca Road: Castillo to Soledad de Tambo
7
Great Inca Road: Soledad de Tambo to Quenhuajirca
8
Great Inca Road: Quenhuajirca to Tambo Grande
9
Great Inca Road: Tambo Grande to Isco
10
Great Inca Road: Huanco Pampa
11
Huaraz to Lima
12
Lima
13
Cusco
14
Ollantaytambo
15
Inca Trail
16
Inca Trail
17
Inca Trail
18
Cusco
19
Cusco