Full World Voyage, 111 Nights
on Queen Victoria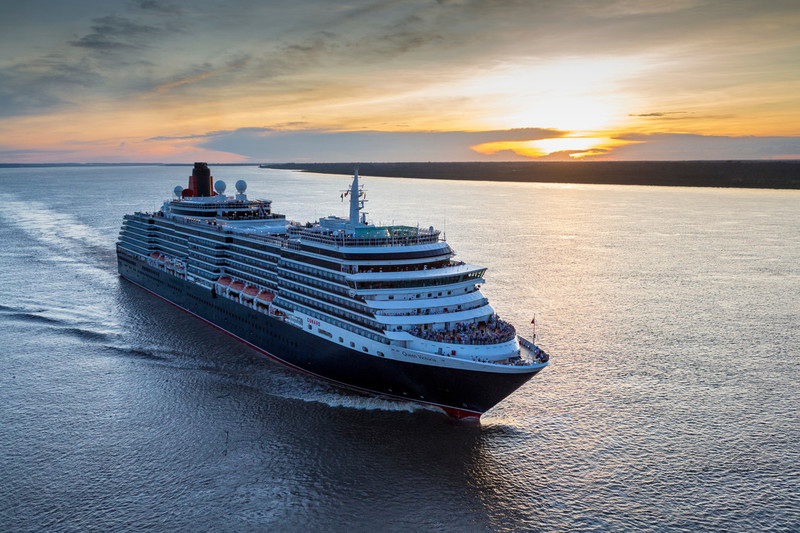 This impressive 111-night world voyage takes in some truly iconic destinations. When not embracing life on board Queen Victoria, spend your days soaking up the culture of five different continents.
For over 180 years we have set the bar, and then raised it. Our rich history and unrivaled seafaring knowledge means that Cunard has grown into a truly iconic brand. A brand that constantly refines the definitive experience of ocean travel.
From 2024 we will be sailing with a fleet of four Queens: Queen Mary 2, Queen Victoria, Queen Elizabeth, and the brand new Queen Anne. This means that over the years, we will have sailed a staggering 249 ships to the four corners of the world.
...
| Day | Port | Arrive | Depart |
| --- | --- | --- | --- |
| 1 | Hamburg, Germany | | 7:00 pm |
| 2 | At Sea | | |
| 3 | London (Southampton), England | 7:00 am | 6:00 pm |
| 4 | At Sea | | |
| 5 | At Sea | | |
| 6 | At Sea | | |
| 7 | At Sea | | |
| 8 | At Sea | | |
| 9 | At Sea | | |
| 10 | Hamilton, Bermuda | 9:00 am | 4:00 pm |
| 11 | At Sea | | |
| 12 | At Sea | | |
| 13 | Port Canaveral, United States | 6:00 am | 7:00 pm |
| 14 | Fort Lauderdale, Florida | 6:00 am | 7:00 pm |
| 15 | At Sea | | |
| 16 | At Sea | | |
| 17 | Aruba, Aruba | 7:00 am | 6:00 pm |
| 18 | At Sea | | |
| 19 | Panama Canal, Panama | 4:00 am | 5:00 pm |
| 20 | At Sea | | |
| 21 | At Sea | | |
| 22 | Puerto Quetzal, Guatemala | 7:00 am | 8:00 pm |
| 23 | At Sea | | |
| 24 | At Sea | | |
| 25 | At Sea | | |
| 26 | Cabo San Lucas, Mexico | 7:00 am | 5:00 pm |
| 27 | At Sea | | |
| 28 | At Sea | | |
| 29 | San Francisco, California | 6:00 am | |
| 30 | San Francisco, California | | 8:00 pm |
| 31 | At Sea | | |
| 32 | At Sea | | |
| 33 | At Sea | | |
| 34 | At Sea | | |
| 35 | Honolulu, Hawaii | 8:00 am | |
| 36 | Honolulu, Hawaii | | 11:00 pm |
| 37 | At Sea | | |
| 38 | At Sea | | |
| 39 | Cross International Dateline | 11:30 pm | 11:59 pm |
| 40 | At Sea | | |
| 41 | At Sea | | |
| 42 | Apia, Western Samoa | 8:00 am | 6:00 pm |
| 43 | At Sea | | |
| 44 | Suva, Fiji | 8:00 am | 5:00 pm |
| 45 | At Sea | | |
| 46 | At Sea | | |
| 47 | Auckland, New Zealand | 7:00 am | 8:00 pm |
| 48 | At Sea | | |
| 49 | Wellington, New Zealand | 8:00 am | 6:00 pm |
| 50 | Christchurch (tours from Lyttelton), New Zeal | 8:00 am | 6:00 pm |
| 51 | At Sea | | |
| 52 | At Sea | | |
| 53 | At Sea | | |
| 54 | Sydney, Australia | 6:30 am | |
| 55 | Sydney, Australia | | 7:00 pm |
| 56 | At Sea | | |
| 57 | At Sea | | |
| 58 | Airlie Beach, Australia | 7:00 am | 5:00 pm |
| 59 | Cairns, QLD, Australia | 9:00 am | 6:00 pm |
| 60 | At Sea | | |
| 61 | At Sea | | |
| 62 | At Sea | | |
| 63 | At Sea | | |
| 64 | Bitung, Indonesia | 8:00 am | 6:00 pm |
| 65 | At Sea | | |
| 66 | Puerto Princesa, Philippines | 7:00 am | 7:00 pm |
| 67 | At Sea | | |
| 68 | Manila, Philippines | 6:00 am | 7:00 pm |
| 69 | At Sea | | |
| 70 | Hong Kong, China | 7:00 am | |
| 71 | Hong Kong, China | | 8:00 pm |
| 72 | At Sea | | |
| 73 | At Sea | | |
| 74 | Ho Chi Minh City (Phu My), Vietnam | 7:00 am | 6:00 pm |
| 75 | At Sea | | |
| 76 | Singapore | 7:00 am | |
| 77 | Singapore | | 7:00 pm |
| 78 | At Sea | | |
| 79 | At Sea | | |
| 80 | At Sea | | |
| 81 | Colombo, Sri Lanka | 7:00 am | 9:00 pm |
| 82 | At Sea | | |
| 83 | At Sea | | |
| 84 | At Sea | | |
| 85 | At Sea | | |
| 86 | Mauritius | 8:00 am | 6:00 pm |
| 87 | At Sea | | |
| 88 | At Sea | | |
| 89 | At Sea | | |
| 90 | At Sea | | |
| 91 | Port Elizabeth, South Africa | 5:00 am | 9:00 pm |
| 92 | At Sea | | |
| 93 | Cape Town, South Africa | 5:30 am | |
| 94 | Cape Town, South Africa | | 6:00 pm |
| 95 | At Sea | | |
| 96 | Walvis Bay, Namibia | 6:00 am | 6:00 pm |
| 97 | At Sea | | |
| 98 | At Sea | | |
| 99 | At Sea | | |
| 100 | At Sea | | |
| 101 | At Sea | | |
| 102 | At Sea | | |
| 103 | At Sea | | |
| 104 | At Sea | | |
| 105 | Tenerife, Canary Islands | 8:00 am | 5:00 pm |
| 106 | Madeira, Portugal | 9:00 am | 6:00 pm |
| 107 | At Sea | | |
| 108 | At Sea | | |
| 109 | At Sea | | |
| 110 | London (Southampton), England | 6:00 am | 4:30 pm |
| 111 | At Sea | | |
| 112 | Hamburg, Germany | 7:00 am | |