Wines of Rudesheim
Tour, Non-escorted tour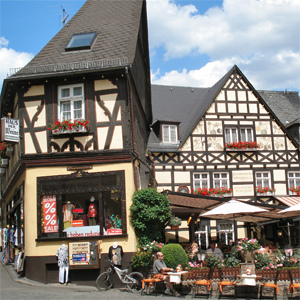 Wines of Rudesheim
Rüdesheim am Rhein is one of the famous wine making towns along the Middle Rhine Valley, with a romantic hillside setting on one of the more scenic parts of the river. You'll sample local wines, have a memorable dinner, and take a Rhine cruise to admire some of the historic castles that are found in this region.
Includes:
2 Nights Rüdesheim
Welcome Drink
One 4-Course Dinner
Morning Rhine Castles Boat Tour
1 Tasting of Local Wines or Sekt
Wine Tasting at Georg Breuer Winery
Daily Breakfast
About Avanti Destinations
MISSION STATEMENT
Avanti Destinations connects the components for customized international travel utilizing our technology and educated staff. We deliver a unique vacation experience solely through acting as the travel agents' travel agent!
WHO WE ARE
Avanti Destinations, formed in 1981, is a customized international tour operator, and a long time member of USTOA and ASTA. We are headquartered in Portland, OR and privately owned.
WHAT WE DO
We offer hotels, airfare, rail transportation, car rentals, transfer services and authentic local experiences in Europe, Asia and Latin America. We create unique and meaningful vacations by providing travel agents with the quality services, products and expertise.
WHY US
By tackling the difficult and complex aspects of travel, we make sure customized trips, from 1-50 people, can be booked quickly and efficiently but with a consistent quality product.